Gammel Dansk Shot
All good things have to start somewhere. For Gammel Dansk Shot with chilli and liquorice, it starts with the aroma of the secret blend of ingredients that you already familiar with, from classic Gammel Dansk Bitter Dram.
We have toned down the bitterness of Bitter Dram somewhat, while retaining its soul and complexity.
The real secret (and this has always been the secret) is ensuring that no single ingredient dominates the overall experience, which is also the case with Gammel Dansk Shot. The initial flavour note is the mild, gentle taste of liquorice, or rather the carefully blended mixture of raw liquorice, aniseed, fennel and star anise, after which the unique interplay of the 29 different herbs, berries, bark, roots, spices and flowers. And then ingredient number 30 hits your palate; the chilli. You could almost say that the flavour comes creeping up on you. Not too much, but not too little either. Just the right amount to elegantly sweeten the experience, completing the full enjoyment of a shot that tastes like nothing else out there.
TO BE ENJOYED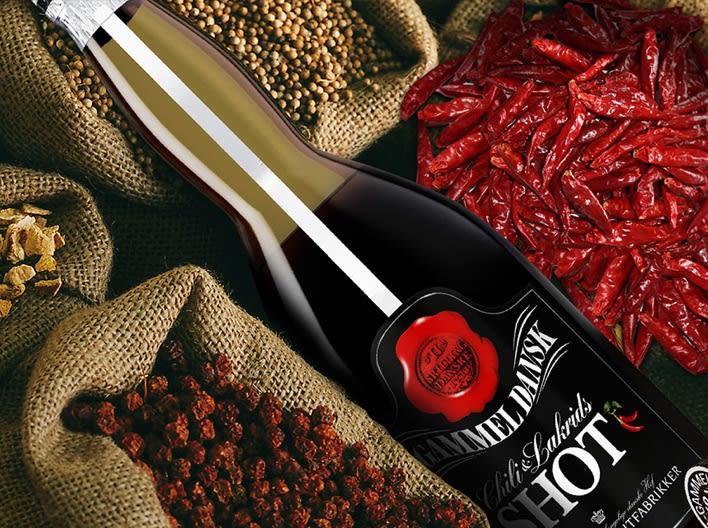 Gammel Dansk Shot is completely unique, as are the occasions where you should enjoy it.
But... an ice-cold beer is an excellent choice of accompaniment
Some people would probably argue that Gammel Dansk Shot is a sign to really get the party moving, where others would claim that it is the perfect companion for a quiet evening. Whether you prefer to enjoy it with a cold beer, a morning dip, a gourmet meal, as the special extra addition to a long-awaited evening of poker, or if you simply have something to celebrate or just fancy a bit of pampering, is completely up to you.
One thing is for sure; it is not like most other shots, just as you are not like most other people.
HISTORY
When everyone else is preoccupied, you might as well just be yourself.
It is almost impossible to walk down a Danish street and bump into anyone who is not familiar with Gammel Dansk, or has an opinion of some kind about whether it tastes good or not. That's just the way it is with anything that dares to stand out. When the familiar bottle is placed on the table, some people will politely decline. Others will find it a wonderful way to start the day. Others again will consider it a fun way of "proving their manhood".
And now it is the turn of Gammel Dansk Shot to establish its own traditions, or borrow one or two. But let's go right back to the very beginning.
Gammel Dansk Shot is the end result of many years of focused work towards the development of a worthy sibling to our classic product, Bitter Dram. Even when Gammel Dansk Shot was just a notion, we were already very aware that the soft flavour of liquorice should have a prominent role.
But it was also the case that there were already numerous different liquorice shots available in bars and supermarkets, so we had to spend a lot of time thinking about how to come up with something that was both unique and original. We considered a lot of ideas, but ended up choosing chilli as our thirtieth ingredient.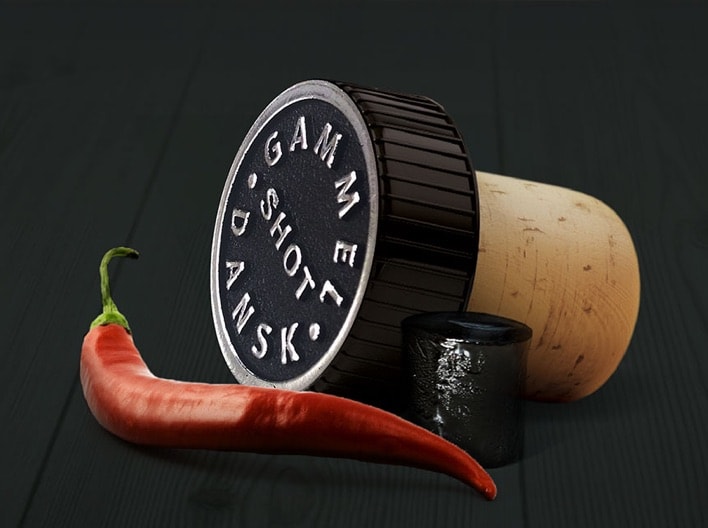 We think that chilli is the perfect partner; not only for liquorice, but also for the 29 other ingredients. Liquorice is mild and welcoming, whereas chilli offers heat and bite. We hope that you are just as enthusiastic about the end result as we are. Skål!
INGREDIENTS
With chilli and liquorice, Gammel Dansk Shot is completely unique, while still on good terms with its older sibling. It contains exactly the same ingredients as original Gammel Dansk Bitter Dram, including angelica root, nutmeg, ginger and rowanberries.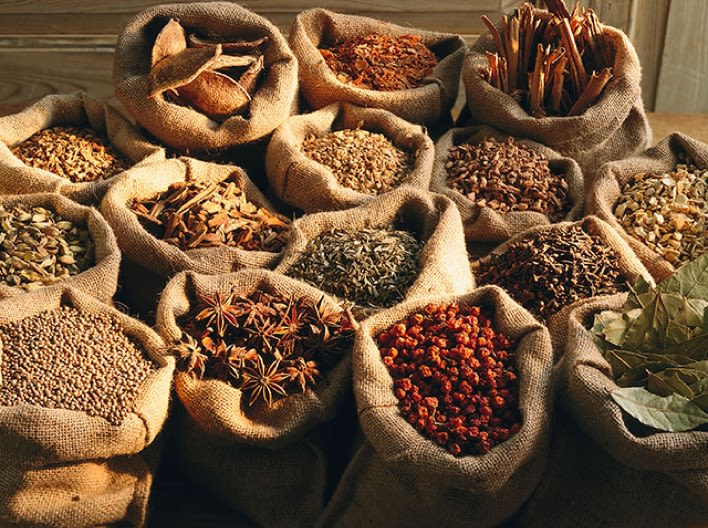 29 old friends, with a new friend who is rather strong.
Actually, all we did was to alter the ingredient mixture ratios, to achieve a new, welcoming flavour. Or perhaps not so… Because there is after all our thirtieth ingredient; the chilli. It goes extremely well with the 29 classic ingredients, producing a warm aftertaste that diffuses into a big, broad smile.
MANUFACTURE
It is no secret that chilli and liquorice and the other 28 ingredients all contribute to the unique flavour.
Completely natural And never just one of the crowd.
But we are not going to tell you precisely how and at what stage of production the special magic takes place, that makes Gammel Dansk Shot so different from all the others. On the other hand we really do want to tell you that it is of course made of completely natural ingredients, with no artificial additives whatsoever.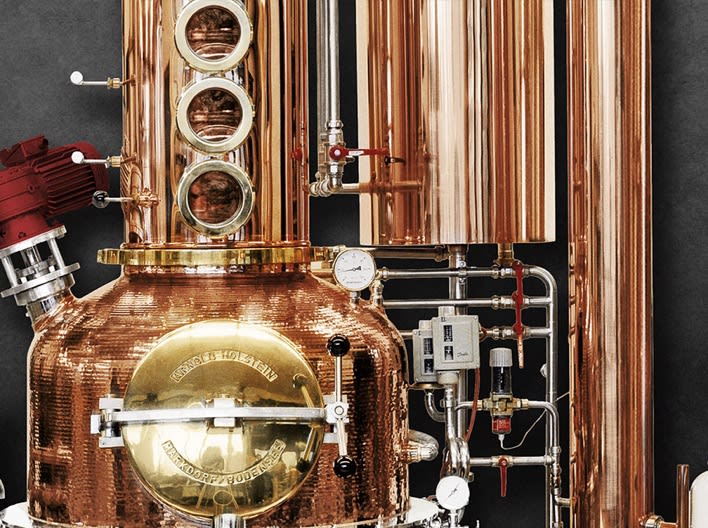 After the 30 ingredients have been processed and mixed in the right proportions, they are left to do their stuff in a carefully measured mixture of water and alcohol that (just like the mixture ratio of the 30 ingredients) is a well-kept secret, as the relationship between water and alcohol is also very important to the final flavour. But there is no secret about the final alcohol percentage. After a while, it reaches 32%, after which the finished product is tapped into bottles, ready for you to enjoy.
BOTTLE
The characteristic bottle was designed by architect Bent Severin of Kastrup Glasværk.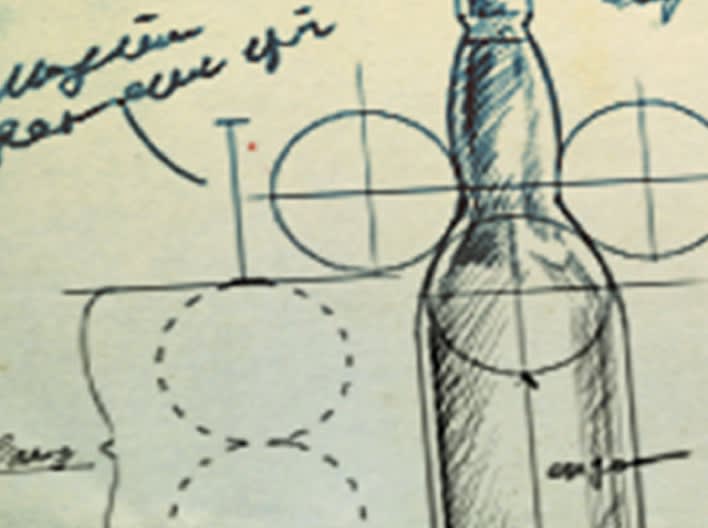 The shape of the bottle's neck is designed specially to produce a totally unique "chuckling" sound that you can hear as soon as Gammel Dansk is being poured. This is also a sound that stands out from the crowd.
The special shape, with its soft, well-shaped curves makes the Gammel Dansk bottle easily recognisable, whether with morning coffee, with a beer, at parties, get-togethers, celebrations, festivals or just for pleasure.